Mastermind Event: The Round Table of Real Estate Experts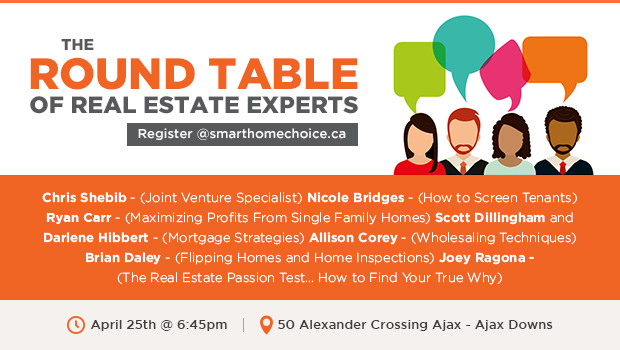 WOW!! We have a jammed packed house with some of the best Real Estate Investors and Mentors in the industry. If you believe in the 4th dimension, this event will provide you with the skill sets to launch your investing career there and beyond.
Chris Shebib


Chris Shebib is a full time real estate investor from the Durham region.   Having held past careers as a licensed carpenter, contractor and technology executive, Chris has been investing for over 20 years in both Canada and the United States.  Today Chris focuses mainly on longer term projects with joint venture partners, in and around the Durham region. Chris was also the winner of the Winner of the National 2016 Top Investor Award
I learn a lot from this interview with Chris. He's seen a lot, been through a lot and provides a wealth of knowledge and sound advice in this podcast. So if you're on your way to work, take the route or pull off to the side of the road and tell your boss you'll be late today because you're trying to figure out how to quit your 9-5 job. With that sound advice, sit back relax and enjoy this month's podcast.
Nicole Bridges


My family has always owned their own investment properties since I was a young girl living in my home town.
As a result I have had my own buildings and homes for which I managed and understood the importance of good management.  I have decided to go public with my services and now have over 300 doors for which my team and I manage.
I have come up with the name of RYIS properties to honour my two boys who are young adults today, one who is in an apprenticeship to become a plumber who is named Ryan and my second boy, special needs who was born with Fragile X Syndrome and is living with me and is involved in a day program and his name is Kurtis……….RYIS (first two letters of Ryan and last two letters from Kurtis)
I have been educated as a legal administrator in which gave me the training for detail and also worked as a recruiter and had various administrative functions.
I have been raised in a construction world and have been a partner in a Plumbing and Contracting business which gave me the ability to understand different methods of all maintenance required and or needed.
Ryan Carr


Ryan Carr is a full time real estate investor from the Durham Region who specializes in maximising residential rent potential using his "vertical split" renovation technique.  His company, R.W. Carr Investments, has created a sustainable portfolio through the use of joint venture funding, and has also recently branched out into mentorship programs for newcomers to the industry.
Darlene Hibbert


If you were to ask me 10 years ago where I would see myself today, I never would have guessed co-owner in a real estate investment firm, working from home and a mortgage agent. Back then, 10 years ago life was simple working in the corporate world of work-pay, work-pay. Yes the concept of consistent pay was attractive, the only problem was there was no balance for work and home. I came across a business philosopher named Jim Rohn. There were 2 important lessons he taught me. The first one was: "The few who do are the envy of the many who only watch." The second one, "Don't wish it were easier. Wish you were better." These philosophies allowed me to leave the corporate world and essentially opened my mind to a broader spectrum of creative entrepreneurial opportunity. I became my own boss.
Scott Dillingham


I help Realtors close more deals.
I specialize in Multi Million Dollar Homes.
100% financing.
Large Rental portfolio purchases/ refinances.
New Comers to Canada.
Self Employed people.
If you get a declined that is not due to bad credit please let me know, I would love to help you close it!
Allison Corey


Born and raised in Canada, I lived primarily in Southern Ontario. I have 2 daughters currently in college, and I worked part time in the beauty industry and 30 years in the hairstyling industry. My gift has been to manage and organize businesses.
In 2006 I purchased a floundering hair salon and created systems to make it profitable, reselling it after 8yrs. That same year I also purchased a golf photography business and in turn helped head office restructure their website, technology and streamline their products and services offered.
I got Involved with real estate in 2013.  Primarily I have been purchasing multi units and lease options for wholesale, now moving into fix and flips. I participate in speaking engagements for real estate investment companies and write blogs for 2 different companies for online subscriptions.
Brian Daley


Brian Daley is the owner of AGHI Inc. The company's focus is to provide clear communication during the inspection process, while encouraging questions and interactive dialogue with the client. They strive to make the home inspection experience both enjoyable and educational. The latest in digital reporting technology is used to ensure all information is presented in a clear and concise format. AGHI enjoys an excellent level of client satisfaction and guarantees the performance of all inspectors with a full refund policy.
AGHI Inc is a wholly owned Canadian company specializing in residential home inspection services servicing Toronto and the entire GTA.
Joey Ragona
Joey Ragona is the CEO of JDR Investments,  a professional real estate investment company, founder of Engaged Investor.com and the creator Real Estate Joint Venture Presentation Formula.
A full-time investor since 2007 and joint venture specialist and he is an in-demand high performance coach helping real estate entrepreneurs get "unstuck" to build a business that returns personal freedom without sacrificing their lives.
His lifetime business knowledge, experience and marketing expertise has already helped hundreds of entrepreneurs find clarity and define new systems and strategies to create a stable business that no longer controls their lives giving them the true freedom they've always wanted.
As for the coaches and mentors I've trained with (some are still to this day)  Greg Habstritt, John Assaraf, Brendon Burchard, Eben Pagan…
RESERVE YOUR SEATS NOW!! $20 AT THE DOOR!
AGENDA
6:45pm – Doors open
6:45 – 7:00pm – Mix and Mingle
7:10 – :8:15pm – Round Table
8:15 – 8:30 – Break
8:30 – 9:15pm – Joey Ragona
9:15 – 9:30pm – Closing remarks
9:30 – 10:00pm – Mix and Mingle